We can help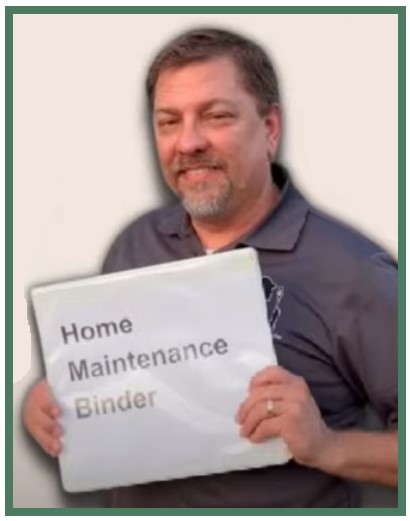 Keep track of ALL your required and completed home maintenance and repairs in one place.
Keeping track of home maintenance schedules, contacts for repairs, etc. can be overwhelming.
But, creating a well-organized system is as simple as starting a maintenance binder.
In your binder, you should have sections for each area of the home, contact information for service professionals, quotes, invoices, receipts, etc., as well as insurance & warranty information.
The best place to start is to take stock of your house today.
You can hire a Professional Home Inspector or simply do it yourself.
Don't know what to look for? It's OK, most folks don't.
 Contact me & I'll send you the following PDF:
 Revised, 2023 Edition of
Property Preservation, Maintenance, and Repair
By: Todd Riley of Sherlock Home Inspections
This guide will show you what to look for, recommended repairs, etc. for ALL areas of your Florida house – inside & out, including pools, waterfront properties, well equipment, etc.
I've also included Seasonal Home Maintenance Checklists & Preparing Your Home for Extended Absence.
Keep Physical Documents in a Safe Place
Having all of this information in one place will make it easier to remember what needs to be done when, & which professionals to contact. It's also helpful when speaking with insurance and warranty companies. While you can have an electronic back-up, remember that if you're trying to find information in an emergency, you might not have access to the internet or even electricity. Keeping a paper copy of these documents in a safe place will give you some added assurance that you can get the help you need quickly when you need it most. Finally, the paper trail is always helpful for your heirs or buyers if you ever decide to sell the property.
Special Thanks (for the idea) to Becca Lewis at LifeHacker