Wind Mitigation Inspection
Save as much as 50% on your home owners insurance premiums! This inspection makes sense for anyone, even if it is not required by your insurance company. Our wind mitigation inspection lets you know about possible weak points of a home's protection from hurricane & tropical storm force winds. Get it done right the first time! We do several Wind Mitigation inspections per month for folks who weren't saving as much as they should have been because the previous inspector they hired check unknown / undetermined, delivered a hand-written report, or did not provide all the photos required for the Insurance Underwriter. You will get every discount you qualify for with our Wind Mitigation Inspection.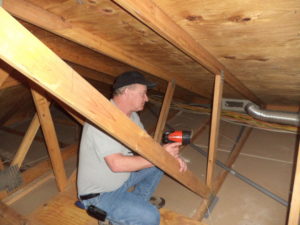 This inspection includes examinations of all of the following:
Original Building Code

Roof Covering

Roof Deck Attachment

Roof to Wall Attachment

Roof Geometry

Secondary Water Resistance (SWR)

Opening Protection

NOTE: Many inspectors will charge you for an inspection even if it doesn't benefit you. WE DON'T DO THAT!
If we are conducting a Standard Home Inspection & we determine that a WInd Mitigation Inspection isn't going to save you any money on insurance, then we'll explain why & skip that inspection, rather than charging you for an inspection that isn't going to do you any good.
Stand Alone = $135
With 101 Point Inspection = $95
Insurance Special (Both Wind Mitigation & 4 Point Insurance Inspection)
Stand Alone = $235
With 101 Point Inspection = $175